Duration : 60'Nuad Tao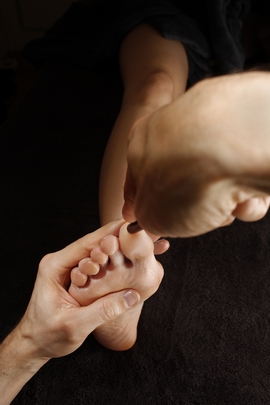 The traditional Taļ foot massage
This massage is performed on a massage table.
Area: Feet, lower-legs and knees.
Rythme: slow.
Pressure: moderate.
Oils: vegetable oil and essential oils.

All massage oils are elaborated from organic
farming products.

One session: 50 Euros
5-session package, valid for 6 months:
225 Euros (45 Euros per session)
As part of a Deluxe Treatment, this massage can be combined:
to the Pijat Bali full-body massage, in a 90-minute or 2-hour experience.
to the Abhyanga full-body massage, in a 90-minute or 2-hour experience.
to the Japanese Facelift massage, in a 2-hour experience.
The benefits of Nuad Tao massage
The slow and steady pace of Thai foot massage allows a deep relaxation of the entire body.
The benefits of Nuad Tao massage include:
Tensions and stress relief.
Feeling of heavy legs reduction.
Venous return stimulation.
Legs energy flow stimulation.
Help to body toxins elimination.
Technique
Foot massage in the Thai tradition subtly combines massage and reflexology.

The massage movements are divided between smoothing, pressure and percussion on the feet and calves.
Some phases of the protocol are intensified by the use of a wooden massage stick, which also allows to stimulate effectively the main reflex points of the foot to facilitate the circulation of energy throughout the body.

This rhythmic and generous massage is not only limited to the feet area, it also extends up to the knees, using lymphatic drainage, muscle relaxation and stretching movements.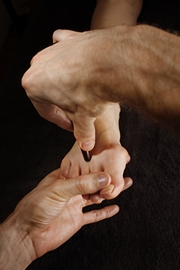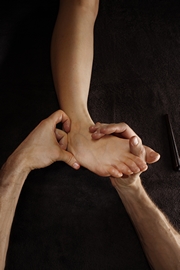 Origine
While inspired by Chinese massage and acupressure techniques, Thailand has developed its own foot massage protocol, as a reflection of its personality, both rich and generous.

In Thailand, massage is an institution and an integral part of everyday life.
Its origin lies in Buddhism and oriental medicines principles based on the strengths of the human body and its ability to heal itself through the vital energy.